Home Page
Newfoundland Mint Postage Stamps For Sale

Newfoundland issued stamps beginning in 1857. They stopped issuing stamps in 1947. During those 90 years this small province produced some of the most remarkable, engraved stamps a stamp collector could ever wish to possess. Their engravers were some of the world's best. They were true artists. The color of the inks they used in production were brilliant. And Newfoundland postage stamps are remarkably under-valued. Collecting stamps from this remarkable country can be a true joy. A collector can purchase Newfoundland mint stamps that are over 100 years old for less than $10.00. For the most part, the paper that was used in production was first class. The stamps are as white and the colors as brilliant as the day they were printed. That is no small accomplishment. The stamp show below is an example of their engraver's work.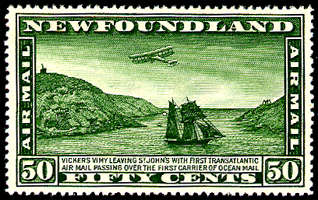 Newfoundland #C7, XF NH
Key Benefits:
Stamps of incredible engraving and artistic beauty
Stamps guaranteed genuine in all respects
Substantial stamp inventory of difficult-to-find never hinged

and hinged

mint Newfoundland
Send your wantlist to us at croton@warwick.net and we will email you price quotes, available condition, and scans if requested. We accept payment by check or Pay Pal.
Croton Stamp Company
PO Box 242, Goshen, New York 10924
845-294-7361
Email: croton@warwick.net
Office Hours: 9 am to 5 PM EST Mon-Sat.